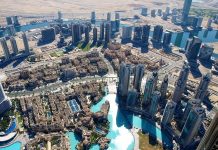 During The Big 5, which runs from 25 to 28 November at Dubai World Trade Centre, Dubai Chamber of Commerce and Industry revealed at a briefing session that currently 4,792 construction projects were active in Dubai, which covers 42% of the total projects in the UAE.
The report said that a majority of Expo 2020 Dubai related infrastructure projects were either under construction or completed, with a major proportion of the contracts being awarded for building works for projects under way at the World Expo's site in Dubai South.
Expansions of Al Maktoum International Airport (DWC), Jebel Ali Port, and the Dubai Metro Red line connecting the city centre to the Expo 2020 site are some of the other megaprojects in Dubai.
Further, the report revealed that the UAE took top spot in the GCC in terms of value of awarded contracts for 2019. The emirates is estimated to have $48.4bn worth of contracts in the pipeline, followed by Saudi Arabia with $40.2bn, and Kuwait $15.8bn.
The UAE construction sector's contribution to the national GDP in 2018 accounted to $33.2bn.
Source: www.constructionweekonline.com
The post Dubai Chamber: 4,792 construction projects currently active in Dubai appeared first on StoneNews.eu.