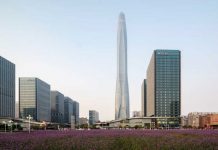 The year 2019 was remarkable for the tall building industry, as it saw 26 supertall buildings (300 metres or taller) completed, the most in any year. This is the second year in which this record was established, besting 18 supertalls in 2018.
It was also the sixth year in a row that at least one 500-metre-plus building was completed. Overall, 126 buildings of at least 200 metres were completed in 2019, compared to 146 in 2018, a 13.7% decline. This is the first year in which the overall completion figure declined since the 2010 to 2011 gap, which was attributed to the lag effect of project cancellations due to the 2008 recession.
The tallest building to complete in 2019 was the Tianjin CTF Finance Centre, at 530 metres. It is now tied for the third-tallest building in China with its sister tower, Guangzhou CTF Finance Centre (also 530 metres) and is the seventh-tallest in the world. This marks the fifth year in a row in which the tallest building to complete is in China.
Key Worldwide Market Snapshots
The 126 completions figure was within the range predicted by CTBUH at the end of 2018 (120 to 150), albeit near the lower end. China completed 57 of these buildings, representing 45% of the total. This is also a decline from 2018, when 92 buildings representing 63 percent of the total were completed in China.
Asia (excluding the Middle East) overall contributed 87 of the 126 completions, for a 69% share; down from 110 completions for a 75.3% share of 2018's total.
The United States was again the second-most prolific country, with 14 completions, for 11% of 2019's total. The number was equal to 2018's total, though the percentage represented was lower. North America represented 20 of the completions, or 15.9% of the world totals, compared to 16 of 2018's completions, or 10.8 percent.
It was followed by the United Arab Emirates, with nine completions, down from 10 in 2018. The Middle East overall recorded 11 completions, down from 13 in 2018.
Malaysia and India tied at seven completions; and the Philippines had five. In 2018, Malaysia also recorded seven completions, India had zero; and the Philippines had one completion.
At the city scale, Shenzhen, China was once again the world champion, besting its own record for the fourth time in a row, with 15 completions, for 11.9% of the global total, surpassing all other countries besides China, let alone cities. The next-most prolific city was Dubai, with nine completions.
Source: www.constructionglobal.com
The post Tall buildings in 2019: another record year appeared first on StoneNews.eu.