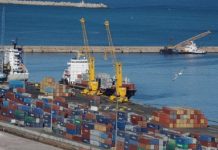 The China-proposed Belt and Road Initiative will prompt Algeria to increase and upgrade its transport logistics platforms to benefit from the expected growing traffic from global trade, said experts and authorities Saturday 2018-12-08.
The initiative was in the center of discussions at the Third International Symposium on Trans Logistics, Transit and Storage of Goods opened Saturday in the Algerian capital city of Algiers.
Experts and authorities at the meeting agreed that the main challenges confronting Algeria after joining the initiative are speeding up the process of developing and modernizing transport logistics platforms and reducing transport costs of goods to make them more competitive in foreign markets.
In his opening notes at the conference, Algerian Transport and Public Works Minister, Abdelghani Zalene, said that the Algerian government has engaged in building more transport logistics platforms, using the huge investments in infrastructures, equipment and human resources.
The government's strategy aims at interconnecting all transport logistics platforms together, to facilitate the transport of goods and ultimately reduce the transport costs from the current 35 percent to 15 percent by 2025, he added.
He further said that "we are glad to join the initiative, in which China will share its experience and know-hows with the African continent, including Algeria, as part of a global developing process."
For his part, Abdelaziz Saoudi, a senior official at the Highway Management Company, hailed the Belt and Road Initiative as an "integrated approach gathering countries with a population of over 4 billion people, and over 60 percent of the world's GDP."
Saoudi noted that thanks to the initiative, Algeria has been constructing mega infrastructure projects that are expected to attract global containers traffic, including its 1,200-km East-West highway, the trans-Saharan road, the North-South highway, and the central mega port of El Hamdania in Tipaza province.
However, economist Abdelmalek Serrai suggested that the authorities need to "redouble efforts in building more transport logistics platforms and modernizing the existing ones in a bid to make them fit to attract maritime containers traffic heading towards African countries, while offering modern logistics platforms, either railways or roads."
Director General of China Road and Bridge Corporation (CRBC) in Algeria, He Huaidong, said that the Belt and Road Initiative offers opportunities for communities around the world to develop their economies through win-win processes.
He noted that CRBC has contributed, so far, to building mega infrastructure projects in several African countries that will help boost local economies, calling on Algeria and its bordering nations "to come together around a united strategy to facilitate the movement of goods and people across their borders, to benefit from the Belt and Road Initiative."
This year celebrates the 60th anniversary of the establishment of diplomatic relations between Algeria and China.
China has been the major economic partner of Algeria in the last five years, with the bilateral trade volume reaching some 9 billion U.S. dollars a year.
Source: www.xinhuanet.com
The post Belt and Road Initiative inspires Algeria to modernize transport logistics platforms appeared first on StoneNews.eu.