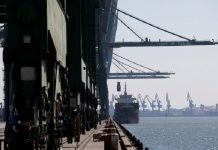 The Bloomberg Commodity Index has dropped by more than 6% since the beginning of the year, as many raw materials are experiencing a year of strong pressure. This development is largely the result of the trade war and reflects the significant slowdown of large economies and, above all, China. And, while it favors large importers, it creates a strong headache in producer countries that support state revenues from exports of goods, from Canada and Australia to South Africa.
It's not just oil, which has a 13% loss this year. Copper, one of the most important basic metals, has seen its price drop by 16% since the beginning of the year, iron ore drops by 6%, and even gold that once served as a safe haven during times of turbulence in the markets, is moving 5% lower than the closure of 2017. Wood is also one of the negative protagonists with a dive of 28%.
According to EPFR Global figures, investors have withdrawn $ 11 billion in commodity funds in the last six months, and hedge funds for oil price rises are at their lowest level since August 2016, despite the recent agreement between OPEC and Russia to put a knife on the offer. Saudi Arabia is attempting to overturn the data by cutting the flow to the US. However, no one can tell if this will be enough.
With the global manufacturing index slumped to the lowest level in the past 23 months, and in the middle of heavy trade disputes and increased political risk, appetite for commodities remains limited. Things make it more difficult to appreciate the dollar. The US currency has grown by 7.5% against the Australian dollar and by 15% against the Brazilian real, about 13% against the African rand and 8% of the Chilean peso.
All of the above countries are commodity producers, who lived a difficult 2018 and are waiting for new pressures in 2019.
Source: naftemporiki.gr with data from wsj
The post Commodities: Commercial War Results Great Losses in 2018 appeared first on StoneNews.eu.