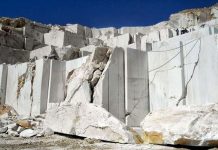 President Mohammad Ashraf Ghani has ordered the relevant authorities to draft a clear strategy for the process of Marble and Alabaster, the Office of the President said.
According to a statement released by ARG Palace, President Mohammad Ashraf Ghani ordered the Ministry of Mines and Petroleum and other relevant authorities to start work on drafting the strategy.
The statement further added that the issue was discussed during the meeting of the High Economic Council in ARG Palace on Sunday.
According to the recent study reports, Afghanistan's natural resources have a potential value of as much as $3 trillion.
As well as deposits of gold, silver and platinum, Afghanistan has significant quantities of iron ore, uranium, zinc, tantalum, bauxite, coal, natural gas and significant copper.
In the meantime, ARG Palace said other key economic issues were also discussed during the meeting, including the strategy for Information Technology in Afghanistan, plan to elevate Afghanistan's position in global trade, recommendation for the prevention of the smuggling and export of reusable papers, and plan and policy of for wheat production.
Source: KHAAMA PRESS
The post Afghanistan: President Mohammad Ashraf Ghani orders authorities to draft strategy for the process of Marble and Alabaster appeared first on StoneNews.eu.