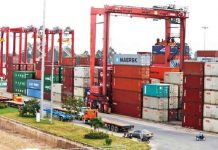 The launch of the 2nd phase of the Phnom Penh Autonomous Port's (PPAP) container terminal will boost the Kingdom's waterway shipping through more trade capacity and reduced costs, according to industry insiders.
The claims came after the PPAP, listed on the Cambodia Securities Exchange (CSX), officially launched the second step of its container terminal, announcing that it expected more than $7 million in net profit this year.
The launch, part of the port's infrastructure expansion plan, was carried out in response to a rise in the volume of container shipping in Cambodia, according to a PPAP news release.
Increased capacity
In the first stage, the container terminal had a 150,000 TEU-per-year capacity but by 2016 the port had handled 151,781 TEUs. The 1st and 2nd phases combined will have the capacity to handle 300,000 TEUs per year, the release said.
TEU is a twenty-foot equivalent unit measurement used in the shipping industry.
Cambodia Freight Forwarders Association president Sin Chanthy hailed the port's expansion: "In the past, the port's terminal was very narrow and the Lo-Lo [lift-on, lift-off] cargo was difficult [to manage] and took a long time. So the expansion is the right step," he said.
According to the report, the container traffic through the PPAP annually increased on average 14.4 per cent in the five years since 2013.
The PPAP is the first state-owned port company listed on the CSX. According to its earnings report, it estimated a net profit of $7.29 million for this year's operation.
The 2nd phase expansion of the container terminal cost about $9 million and the capital came from the port's investment fund, as well as from its IPO issuance on the CSX.
Cambodia Chamber of Commerce vice-president Lim Heng said that while Cambodia's economy continues to grow, the expansion of passenger and goods transport routes is inevitable.
"It is very good for the transport sector in Cambodia. And even for air transport, the government is doing well," he said.
The PPAP's third-quarter report showed that 70 per cent of imported goods passing through the port are from China, nine per cent from Vietnam, and the rest from other countries. Most imported goods are construction materials and textile raw materials.
After completion of the 2nd phase, the port will continue to implement the third phase of its 2019-2023 port container terminal infrastructure expansion project with the goal of increasing container capacity to 500,000 TEUs per year.
Source: www.phnompenhpost.com
The post Cambodia: Phnom Penh Port expansion set to boost Kingdom's waterways shipping appeared first on StoneNews.eu.