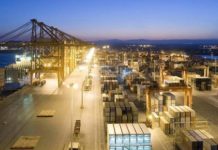 India is seeking superior logistics linkage with nations all over the world, Minister of Commerce and Industry Suresh Prabhu said.
Launching "Logix India 2019," to be held in New Delhi from Jan. 31 to Feb. 2, the minister said the event would enable effective international trade logistics and help provide efficient and cost-effective flow of goods, on which other commercial sectors depend.
There was an urgent need for India to have more robust trade relations with countries in Africa, Latin America, Central Asia, Middle East and ASEAN, he said.
Pointing out that logistics was the backbone of export-import trade, Prabhu said it also created business opportunities and employment.
India's logistics sector is expected to grow to 360 billion U.S. dollars by 2032 from the current 115 billion dollars.
India ranked 44th in the World Bank's Logistics Performance Index last year. This sector provides employment to more than 22 million people and is expected to grow at the rate of 10.5 percent over the next five years.
Source: www.xinhuanet.com
The post India seeks superior logistics linkage with world appeared first on StoneNews.eu.