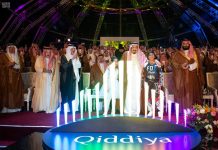 Construction on Qiddiya, Saudi Arabia's planned 334km2 entertainment gigaproject by Public Investment Fund (PIF), will reportedly start this year.
Speaking to Riyadh-based news outlet Arab News, Mike Reininger, chief executive officer of Qiddiya, said: "Planning and design were completed in 2018 and will be implemented this year."
An established part of Saudi Vision 2030, aimed at diversifying the kingdom's economy away from oil, Qiddiya held its groundbreaking on 28 April, 2018, with the Custodian of the Two Holy Mosques King Salman bin Abdulaziz Al Saud patronising the foundation ceremony.
A company tweet reportedly read: "We are a step closer to building Saudi Arabia's first entertainment and sports city."
The project – located 40km from the Saudi capital Riyadh – is more than double the size of Walt Disney World Orlando in Florida. With this in mind, investors are banking on the project making an attractive entertainment proposition for domestic, regional, and international visitors.
Qiddiya will feature a Six Flags-branded theme park, hotels, and amusement and entertainment facilities, all of which will be regional firsts, according to its developer, Qiddiya Investment Company.
According to Arab News, Reininger added: "We will disclose more information on the construction timeline in due course".
The construction update comes three months after Qiddiya Investment Company chose systems integrator Enstoa to work on the project. Enstoa's involvement is set to create digital transformation jobs for Saudi nationals – another key priority for the kingdom.
In a statement at the time, Enstoa said it is recruiting "talent Saudi national passionate about technology and effectuating change, with a background in digital transformations" to support the project.
Another gigaproject being implemented by PIF includes the $500bn (SAR1.9tn) Neom, which is located along the kingdom's Red Sea coast. Work on the project "entered the first phase of actual development", an official update in October 2018 revealed.
Source: www.constructionweekonline.com
The post Construction on Saudi Arabia's 334km² Qiddiya to start in 2019 appeared first on StoneNews.eu.