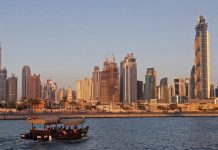 The construction sector in the Middle East and North Africa will grow at the fastest pace globally in 2019 as regional governments continue to invest in infrastructure projects and rebuild conflict areas, according to a new report.
The Mena construction industry is estimated to grow on an average 7.5 per cent year-on-year in 2019 and will expand at an average of 6.8 per cent every year until 2022, Fitch Solutions said in a report on Tuesday. Oman, Egypt and Iraq will drive most of the region's construction activity.
"Our bullish forecast is underpinned by strong government support for infrastructure development, expansive economic diversification plans, investment to improve logistics connectivity, and reconstruction efforts in conflict zones," Fitch Solutions said.
The construction sector in the broader region, particularly in the six-member economic bloc of the GCC that heavily relies on the sale of hydrocarbons for revenues, took a hit after sovereigns in the region suspended construction projects on the back of a three-year oil price slum. Oil prices, which fell below $30 a barrel in the first quarter of 2016, have since recovered as governments seek to build sectors from financial services to tourism.
Of the 16 countries tracked by Fitch Solutions in the region, all are expected to see growth with the exception of Yemen, where it forecasts a 1.8 per cent contraction as the country's four-year civil war has crippled the construction sector.
Efforts to rebuild key infrastructure in Libya and Iraq, where the security situation is expected to improve, will drive construction growth, the report said.
Fitch Solutions expects efforts by the Arabian Gulf states to diversify their economies away from oil and their plans to build large-scale developments such as Dubai Expo 2020-related projects, the Riyadh Metro and Oman's plastics industry complex, will be a boon for contractors.
"Government spending on infrastructure will continue to be a crucial factor supporting construction industry growth," the report noted.
Egypt's construction sector is projected to grow 10.8 per cent year-on-year in 2019 as government investment backs a packed pipeline of projects aimed at addressing inadequate infrastructure and the needs of fast-growing population, with numerous power, commercial, industrial and transport developments under construction.
The GCC's construction sector is expected to outperform the broader Mena region's average growth rate in 2019.
The UAE and Saudi Arabia will grow below the regional average at 6.4 per cent and 5.5 per cent respectively, partly because both have a well-developed infrastructure network and have already implemented some of their plans for economic diversification, the report said.
Source: www.thenational.ae
The post Mena construction sector to grow at fastest pace globally on government spending appeared first on StoneNews.eu.