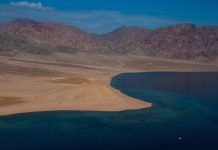 The work on the first phase of NEOM Bay, an urban project, will be completed in 2020
Construction of NEOM Bay, the first urban area within the $500bn mega NEOM development in Saudi Arabia will begin in the first quarter of this year, officials announced.
A number of key facilities will be completed by the end of this year including the current airport at Sharma, which will be upgraded to become a commercial airport operating regular flights between Riyadh and NEOM.
The work on the first phase of NEOM Bay will be completed in 2020, the report added.
Spanning 26,500sqm, NEOM will act as a technology hub, job creator and centre for foreign investment and is key component of the kingdom's Vision 2030 agenda to diversify away from oil.
In October, Prince Mohammed said the NEOM business zone will build two to three towns each year starting in 2020 and be fully complete by 2025.
The first project, NEOM Bay, will offer next-generation technologies in mobility and create an intelligent urban ecosystem with advanced infrastructure. It is also designed to be an eco-friendly project, with energy set to be generated from renewable sources.
Nadhmi Al-Nasr, CEO of NEOM said: "The year 2019 will be a milestone in NEOM's journey. We are now preparing for the development of NEOM Bay area, which will provide a new concept of urban living that will enable it to become a platform for attracting the world's top minds for creating advanced economic sectors".
Source: gulfbusiness.com
The post Saudi Arabia to begin construction at $500bn NEOM development in 2019 appeared first on StoneNews.eu.