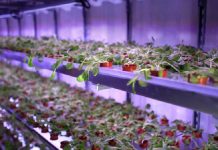 Coal mines and inner-city tunnels could be transformed into farms to help feed the planet's growing population.
Academics are exploring the use of abandoned mines and other subterranean facilities in the UK and China as alternatives to traditional agricultural land.
"There are millions of redundant coal mines and tunnels in the world which could be linked to new tunnels for crop production," says Professor Saffa Riffat, Chair in Sustainable Energy at the University of Nottingham.
"In the UK there are over 1,500 redundant coal mines, and in China, there are over 12,000 abandoned coal mines (0.6 million m3), 7.2 billion m3 of tunnels and about one billion m3 of civic air defence tunnels."
The United Nations predicts the world's population will grow by 1 billion to reach 8.6 billion in 2030, and 9.7 billion by 2050.
This increase – coupled with an expanding global middle class that is demanding higher-quality food – will require a near doubling of current food production levels, which today still leave 815 million people chronically undernourished.
Instead of simply doubling the amount of agricultural land and all of the economic and environmental implications that would come with that, farmers and scientists are exploring new techniques for growing our food.
Riffat and his University of Nottingham colleagues are embarking on a two-to-three-year study of underground facilities in the UK and China.
They claim that a variety of crops could be grown in the subterranean farms using hydroponic planters, where plant roots are fed with nutrient-rich water. This water could be sourced from groundwater used directly or water that is condensed from ambient air.
Coloured LED units would enable photosynthesis in the absence of sunlight, while plants could breathe CO2 that has been captured from industrial emissions and stored underground.
Growing food inside in artificial conditions is nothing new: in Iceland, where winter can last for six months, crops have been produced in geothermal domes all year round for the past 20 years.
However, today hydroponics is being combined with digital technology to make indoor farming more efficient than ever before, leading some to call it the future of agriculture.
And in many cities – where the majority of the planet's projected population growth will occur – vertical farms are appearing. These "skyscraper farms" are claimed to yield more than 32 times the level of crops per square metre as agricultural land.
However, Riffat warns that "vertical farming systems are expensive to manufacture and install, and require a large amount of water and energy for heating and cooling".
"They are also vulnerable to extreme weather conditions, wars and terrorism," he adds.
He argues that underground farms would be less exposed to many of these risks.
Such underground farms already exist: in London one company has converted old Second World War air raid shelters into a hydroponic farm that produces herbs and salads for London's hotels, restaurants and supermarkets.
Source: World Economic Forum
The post Abandoned mines could become the farms of the future appeared first on StoneNews.eu.