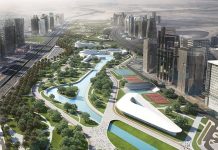 Egypt has commenced construction of one of the largest parks around the world, the Green River in the New Administrative Capital.
Prime Minister and Minister of Housing, Utilities and Urban Communities Mostafa Madbouli who witnessed the start of the construction, said the Green River will be the link between a series of smart urban neighborhoods, which are characterized by abundant capabilities, flexibility and modernity, and will be one of the distinctive gardens in the Middle East and the world.
Green River project
The Green River project is more than 10 kilometers long and has an area of ​​more than 1,000 acres, making it one of the largest parks around the world. From east to west, it will be divided into three homogeneous planning sectors linked to the immediate surroundings, each reflecting a personality and a distinctive visual and urban characteristic. The sectors are CP 01, CP 02 and CP 03.
CP1 will house a mosque, Botanical garden, El Khan Traditional garden, Lodges and kiosks, an open zoo, a park, a food court and waterfall among others. CP2 will have a boutique hotel, recovery resort and healing park, a dancing fountain, spas and wellness centers while CP3 will have riverfront retail and restaurants, playgrounds, arena and plaza stage.
Community interaction
Upon completion, the park will provide greater opportunity for community interaction between the capital's residents and other residents in its wider scope as it is expected to host more than two million visitors annually.
Madbouli stressed that the Egyptian government is committed to this project, aims to implement it in 18 months, and will cooperate with the private sector in all the stages of its implementation, which will provide many opportunities for domestic and foreign investment.
"The park respects the topographical nature of the place and is in harmony with the public ecosystem. It will provide entertainment areas with international standards easily accessible through an integrated network of pedestrian and bicycle paths," added Prime Minister Madbouli.
Director of Dar al-Handasa Consulting Office Yehia Zakaria said that the park is characterized by a wide variety of vegetation cover, which reflects the richness of the natural Egyptian plant environment.
Source: constructionreviewonline.com
The post Construction of the Green River project in Egypt commences appeared first on StoneNews.eu.