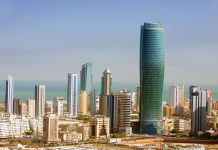 Construction projects worth more than $494 billion are currently active in Kuwait, according to new research by ProTenders.
Of these, projects worth $15.5 billion (3.1 percent) are on hold, the consultancy said in a statement.
Projects in the design stage are valued at $243.5 billion (49.3 percent) while another $63 billion (12.8 percent) are in the planning stage while $140.9 billion worth of projects are in the construction phase, making up 28.5 percent of the total.
Of the project under construction, most (44 percent) are in the oil and gas sector while infrastruction projects make up 21.9 percent and the urban buildings sector make up 34.1 percent, ProTenders data showed.
Total upcoming projects in Kuwait are worth $337.7 billion, with the large majority in the urban buildings sector (72.7 percent). Oil and gas makes up 12 percent and infrastructure 15.4 percent.
ProTenders said the top five developers in the Gulf country are currently the Secretariat of the Supreme Council for Planning and Development with $125 billion worth of projects, followed by the Kuwait Authority for Partnership Projects ($50.5 billion), Kuwait National Petroleum Company ($45.8 billion), the Ministry of Public Works ($30.2 billion) and Kuwait Oil Company ($23.7 billion).
Source: www.middleeastarchitect.com
The post $494 billion worth of construction projects are currently active in Kuwait appeared first on StoneNews.eu.