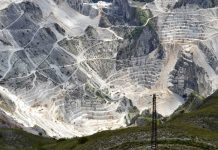 Luxury brands fond of Carrara marbles. And the Gucci supermodels parade among them.

Carrara marble is trendy: the T Magazine, a New York Times supplement, is presenting the Corbellini-Wassermann house in Milan, designed by Piero Portaluppi with marble from all over Italy; the entrance hallway decorated in "millerighe" stands out, a combination of red marble from Amiata, Verde Alpi and white from Carrara. The Gucci Cruise 2020 show on May 29th chose an exceptional location: the Capitoline Museums with statues symbol of Rome, whose brilliant marble frames the models accompanied by a soft light. And yet, Vetrerie di Empoli, a company with 80 years of history behind it, has launched a new collection for summer 2019: objects that look like marble, but are strictly in glass. The vases and the center-table all have a "marble effect" obtained with color schemes that perfectly imitate the white stone, with the insertion of colored and golden veins, stretched strictly by hand.
Even the Adidas have marble details: two of the most iconic sneakers, the Superstar and the Stan Smith, received an exclusive marble cover. The Stan Smiths have a simpler look, with marble details on the heel, while the white leather has been left intact. For the final touch, both shoes have the gold stamped logo on the heel. There are already other Adidas with marble details and others could be added to the collection. It was announced by Chiara Viganò on her website "Everything Marble", a veritable observatory of the trends concerning Carrara marble. Among his latest reports we find the "Giardini Emersi" project, born from a collaboration with Paola Vignola's Artistante studio. This is a collection of 100% silk scarves with textures inspired by the statuary and the Carrara and the Portoro of Portovenere. We also discover that Salvatore Ferragamo has launched a new exclusive fragrance called "Bianco Carrara" of which only 398 pieces will be produced. The package consists of glass, precious details in gold and a white Carrara cap carved by hand. There is no shortage of projects made in Carrara such as scarves inspired by local marbles: the marble sober collection tells of Carrara and its territory from the Alps to the sea, combining the texture of Apuano marble with the characteristic colors of the architecture of the city of Carrara. Everything marble marbled patterns are made from high resolution photos and scans of local marble slabs.
Source: voceapuana.com
The post Carrara white is trendy: from Adidas to Ferragamo perfumes appeared first on StoneNews.eu.