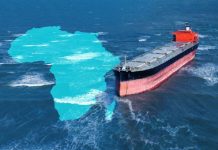 The economies of the countries of the African continent could benefit from the US-China trade dispute, given that the two largest economies on the planet are trying to "harness" the "Dark Continent".
Investors and trade partners in Washington and Beijing have focused on Africa, as in June the United States co-chaired a summit in Maputo, the capital of Mozambique, to support US-African cooperation. US exports to Africa have fallen by 32% since 2014, but this trend has begun to change.
Only a few days later, Chinese Foreign Minister Wang Yi said his country's investment in Africa should be sustainable and dismissed charges of a debt trap because of generous Chinese funding. At the same time, he underlined the "true friendship between China and Africa".
The United States, China, and to a lesser extent Europe are struggling to strengthen their trade links with Africa, as the markets of the Dark Continent countries show strong dynamics due to the young population and positive growth rates.
At the same time, a number of African countries are working together to create AfCFTA (African Continental Free Trade Agrrement) as they see opportunities to attract investment amid ongoing trade and international protectionist policies. Economic analysts note the political will of part of the leaders of the African countries to deepen their co-operation, predicting that even under a temporary free trade agreement intra-African trade could directly increase by 33%.
Source: naftikachronika.gr
The post Africa, pole of attraction for foreign investment appeared first on StoneNews.eu.