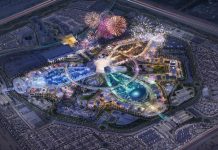 UAE's bid to host Expo2020 is a historic achievement, which, along with UAE's Vision 2021, means that the construction and infrastructure sectors have won a significant share of investments.
At the level of Gulf countries, UAE's share of oil exports in the country's gross domestic product (gdp) dropped 21 percent to second place after Saudi Arabia, according to a study by Bloomberg.
The efforts to diversify economic resources in response to UN Sustainable Developments Goals 2030 and UAE Vision 2021 are the primary incentives for this transformation.
Vision 2021 includes priorities of creating a competitive, knowledge and innovation-based economy, a sustainable environment, and integrated infrastructure to create opportunities for enhanced innovation and restructuring in construction.
Expo2020 Dubai launched a series of construction projects worth about $238 billion which are scheduled to be completed by October, a year before the launch of the Expo.
These projects have helped regional and international companies operating in the UAE achieve growth rates of more than 10 percent, which Bloomberg sees as a unique opportunity for these companies.
The global event hosts individual projects from some 170 countries, all of which require a high level of experience in the areas of design, implementation, and innovation, which increases construction requirements and challenges time constraints.
In total, UAE accounts for about 52 percent of the construction projects in GCC member states, and by the end of 2017, there were 11,755 projects in the country worth $818 billion, representing 33.6 percent of the $2.43 trillion total construction projects in the GCC.
In 2018, UAE and Saudi Arabia accounted for about two-thirds of the total construction projects among GCC countries at a cost of $1.61 billion, Bloomberg reported.
Bloomberg believes when UAE joins projects of China's "Belt and Road Initiative," strong cooperation between Dubai and Beijing will help provide financial support for infrastructure projects.
Trade between China and the UAE is well established, with trade volume reaching $60 billion in 2017.
Expo2020 Dubai is the first international expo in the Middle East, Africa, and South Asia and is expected to attract more than 25 million visitors, 70 percent of whom are from outside the UAE.
Expo 2020 Dubai will be held over a period of six months, from October 20, 2020 to April 10, 2021 with more than 200 participants from countries, international organizations and companies, and educational institutions.
Source: aawsat.com
The post Expo 2020 to boost construction and transportation in United Arabic Emirates appeared first on StoneNews.eu.