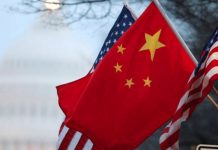 The Chinese economy recorded the slowest growth rate in the second quarter since 1992, according to Bloomberg analysts, as the trade war with the United States is affecting exports and investment. However, the recovery in retail sales and investment in China over the last few months has shown that Beijing's support measures taken in the context of the trade war have begun to have a positive effect on the real economy.
Chinese GDP grew in the second quarter at an annual rate of 6.2%, the lowest since 1992, according to China's National Statistical Agency. In the first quarter of 2019, the Chinese economy had grown at an annual rate of 6.4%, and in 2018 in total it had grown at a rate of 6.6%. "We still see a slowdown in the second quarter, but I think we're seeing stabilization," Wang Tao, chief economist for China at UBS, commented on Bloomberg, adding that the Chinese central bank would have to reduce the amount of required reserves if the US part imposes higher tariffs on other imports from China.
"Concerns about slowing global growth and continuing the US-China trade war will continue to burden the prospects of the economy. The internal market is still unclear whether the resumption of retail sales will continue", David Kui and Kian Wan, economists from Bloomberg Economics, explain. In June, Chinese industrial output and retail sales were higher than expected, while the reinforcement of investment in the first half of the year also shows how Beijing's economic recovery measures are starting to work, notably tax cuts, and strengthening liquidity. During that time, investments from private companies were stepped up and investments from state-owned companies declined as the government evoke liquidity into the private sector. In manufacturing, investment grew at 3% and infrastructure grew by 4.1%.
On his part, the US president has welcomed China's new signs of a slowdown by writing on Twitter: "US tariffs have a major impact on companies that want to leave China for countries without US tariffs." "Thousands of companies are leaving. That's why China wants to close an agreement with the US and hopes it would not break the initial agreement", Donald Trump added.
It was a completely misleading statement, the Foreign Ministry of China claimed, which, through his representative, pointed out that the growth rate for the first half of the year is not poor, given the global economic uncertainty and the slowdown in global growth. At the same time, the Chinese Foreign Ministry representative underlined that "reaching a trade and economic agreement is not just a one-sided desire of China, the American side also has this desire."
Source: kathimerini.gr, bankingnews.gr
The post China's GDP growth slows to 27-year low appeared first on StoneNews.eu.