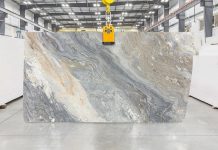 "Way back when, you'd have to tell people stories about all the Parisian chefs who used it," says Karen Williams, the owner of St. Charles New York and a 40-year veteran of kitchen design. "That was the only way to get them excited about it."
"It" is marble. Hard to believe, but one of the world's most classic (in the literal sense of the word) surface materials hasn't always been in vogue, especially in America. It wasn't until the tail end of the 20th century that marble became common in our kitchens and bathrooms, as a combination of better fabrication technology and a more robust global supply chain led to available and affordable natural stones.
In 2019, however, the market looks different than it did 20 years ago. Engineered quartz-based options have gained ground and clients' expectations are shifting. Business of Homespoke to designers and distributors to get a sense of the factors shaping the world of natural stone today.
STUBBORNLY OLD-SCHOOL
For a global business, marble is remarkably old-school. There is no massive conglomerate that owns and operates all the quarries in the world via a database in the cloud. Many are controlled by individual families, and have been passed down through generations. The business is a bit like wine, where some big players have managed to consolidate here and there, but countless small operators continue to produce desirable product.
"The stone world is very mom-and-pop," Magd Riad tells Business of Home. Riad is the president and COO of Marmi, a designer-focused U.S. offshoot of a larger international stone distribution company, Marmonil. "You're going direct to quarries, and hand-picking slabs, one by one."
Because of the remarkable diversity of the supply, marble is resistant to disruption, Silicon Valley-style. Relationships still matter—a lot. Who your distributor knows, on the quarry level, can make an impact on both the quality and quantity of stone you have access to. Riad sees the relationships his company has fostered as a key selling point to designers. "We've been in the business for over 50 years, and we have direct relationships with quarries in every major country—Italy, Germany, Spain, China, Brazil, Turkey," says Riad. (By comparison, you don't hear Christofle executives saying they know a great guy for silver.)
Such relationships might not have a big impact on a project that calls for a single slab of a relatively common marble. But for a larger project, one that involves five or more slabs, simply having enough of a matching pattern can become a make-or-break proposition. The very uniqueness of a slab of natural stone presents a unique challenge.
"I'm doing a large job in Florida right now," says Williams. "We need 25 matching slabs for a master bath—it's a big master bath—and I've gone to a considerable amount of marble yards that really have zero inventory. It's expensive for them to stock it, and more and more, a lot of the good stuff goes quickly."
Williams is recommending clients pick stone earlier and earlier in the design process, and for large projects, where all of the slabs have to match, she often goes direct to Italy to obtain the lots. "Marble is so popular now, and people are using it vertically for backsplashes as well," she says. "It's like a fine piece of art, and it's very personal."
NEW COMPETITION, NEW DEMAND
Why is it sometimes hard for a designer like Williams to get enough slabs? Is marble more popular than ever? Have we reached peak marble? It depends on who you ask.
"We spec stone in almost all of our projects," says Roric Tobin, a principal at New York–based design firm Bradfield & Tobin. "We see less granite, it's starting to look dated, but I see no downturn in the market for marble, especially in bathrooms, where people really want something unique. For kitchen countertops, quartz is getting more popular, and some clients don't care about the difference."
When synthetic stone surfaces first hit the market, for years they were seen as an ersatz alternative to the real thing. Over the last decade, the technology underpinning products made by brands like Cambria, Caesarstone and Cosentino has improved radically. Quartz-based countertops are now competing with marble for clients' affection. Interestingly, the choice is rarely made on the basis of price anymore (indeed, natural stone can frequently be a cheaper option than high-end quartz). Instead, clients are drawn to the durability of synthetic offerings.
The degree of practical difference between the two options is the subject of much debate (and considerable marketing spend). But while natural stone champions may concede that quartz providers have penetrated consumer consciousness, they point out that just as new technology has made synthetic stone better than ever, technology has also improved marble's prospects. "It used to be that when they sealed up the marble you'd have to leave for the weekend," says Williams. "But the new sealers are fabulous." Designers are finding that the fear factor—client worries about scratches or etchings—is fading with the improvement of sealants and honing techniques (properly honed marble is generally more resilient than polished). Better hi-res images and faster shipping of samples has also made it easier for clients to choose a natural stone.
Still, it's undeniable that quartz has cut into the market, especially in the kitchen at the middle and low tiers. As such, many purveyors of natural stone are focusing on the higher end, which means targeting designers. "On the low end there has been a pretty significant dropoff, due to exquisite marketing from the engineered and synthetic products," says Riad. "We're definitely going after the uber-high-end residential projects…We have a very small pool of architects and designers that we cater to."
To tackle that rarified market, Marmi has pursued a business model based around both access to quality stone and a high-touch service model, with managers assigned to each project, a proprietary software to template stone, and handling fabrication in-house for more complicated projects. Riad also sees being plugged into the design world as an essential component of his work.
"I've walked Salone, Maison Objet, Deco Off every year with designers to stay on top of trends," says Riad. "If pale pinks are going to be part of the story we try to curate a selection around that. It's just like any other sector of the design industry."
EXPERIENCE AS LUXURY
"I've been taking clients to stone yards for thirty years," says Connecticut-based kitchen designer Sarah Blank, with a laugh. "I had one client who said it was a hassle to make it out, so I asked her to sign a waiver, and that was that."
Savvy designers who work with natural stone have long known that a close look is important. Shoddy photographs can misrepresent color, or hide subtle imperfections in a slab. Even if a stone passes inspection, it's such an impactful choice that many designers want to have clients see it for themselves. That hasn't changed. What has changed is that many designers are finding it less of a hassle to get clients involved—in fact, it's becoming a selling point.
"It's becoming very trendy now that designers take their clients to Carrera," says New York–based designer Sarah Magness. "It's a whole new side of my business, where clients want experiences."
This year, for a Tuscany–based project, Magness worked with Marmi to organize a tour of the quarries in Carrera, where they could select the exact block of marble that would be used for a villa project. "We went to the Michelangelo quarry, which is the quarry where all the stone for the vatican was mined, it was a once-in-a-lifetime experience that every designer should do," says Magness—both for the experience, and the competitive advantage. "When a wholesaler from Hong Kong comes to Carrera to buy the best slabs, they're competing with [Brooklyn-based distributor] ABC Stone. But if I'm there, they're competing with me."
Even if clients aren't visiting quarries directly, designers are noticing an increasing interest in the process. "We usually go to look at the slabs in person," says Tobin. "But it used to be that only one client a year was interested in coming along, now it's much more frequent. When I go to ABC, I see a lot of other designers with their clients."
Such excursions—to Italy or Brooklyn—tap into the shifting definition of luxury, away from objects and towards experiences. It's a phenomenon that hasn't been lost on other players in the space.
In 2015, New Jersey–based luxury distributor Artistic Tile created a 25,000-foot slab gallery in their Secaucus facility. "Most competitors are selling out of warehouses," says Michael Epstein, VP of marketing. "It's kind of an industrial process, it's not designer-centric or very engaging."
In response, the company crafted a space designed to provide an art gallery-like experience for designers and their clients, with bright lighting, ample space to browse and soft music piped in. Artistic Tile invites designers to make appointments through an online booking portal, and are encouraged to bring in materials from their projects to pair them with slabs in person. The company also runs annual tours for designers, busing a gaggle of them out to Vermont to see the world's largest underground quarries.
"We've gotten great feedback on all of it," says Epstein. "The market is maturing, and people are getting more interested in natural stones and exotics. And social media has made people more interested in seeing raw materials. We're definitely getting folks who are coming [to the slab gallery] even without designers."
In whatever format, designers and brands have had great success re-framing the "chore" of selecting a slab into an elevated part of the package.
WHAT'S NEXT?
Where is this all going? When asked what lies in the future for natural stone, all of the sources we spoke to agreed that, though the market was shifting subtly, it wasn't in decline. Granite might be getting a little dated, but a classic kitchen in white marble isn't going anywhere. And the unique, jewelry-like qualities of a natural stone present an opportunity in an age characterized by personalization and self-expression. "The market is quite broad, particularly in the high end," says Riad. "It's really unique, almost like art, or a diamond, where a carat of a diamond can make a huge difference. It takes a refined palette."
And while quartz countertops have undoubtedly cut out a healthy slice of the pie, natural stone retains a strong allure. Magness sees the choice in stark terms: "When you compare a slab of synthetic engineered stone next to a real stone, no one is choosing the synthetic." She also makes the point that clients, increasingly concerned with environmental impact and wellness in their homes, are choosing natural stone due to off-gassing concerns.
Others see the issue in simpler terms. "Quartz is a good choice for a lot of people," says Williams. "But purists are purists. They want marble and they're going to get marble."
Source: businessofhome.com
The post The new rules of marble appeared first on StoneNews.eu.