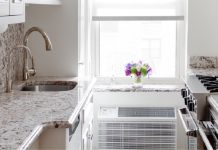 by Toni Sabatino*
Working in the interior design field has its joys and its challenges. Staying informed about product includes both. I have had the opportunity to visit stone fabricators, tile factories, stone quarries, and many other types of manufacturers and distributors over the years.
In a category like appliances or furnishings, there are often products that are newer or better. When it comes to surfaces, I always seem to find myself coming back to natural stone. I find that I really enjoy looking at it! Each piece of stone seems to conjure up a story. There is a timeless quality that honed stone brings that really enhances almost any architectural style. Natural stone has the look and feel of luxury. The durability as well as its ability to be sculpted into functional art give it a time honored respect that is hard to come by in building materials.
I have used charcoal soapstone in kitchens for its easy maintenance and depth. Water jet manufactured tiles can weave intricate patterns and one of my favorite projects has some stunning large pattern tiles on the floor of a foyer. Large slabs of natural stone can create such drama for walls, floors, and countertop surfaces. Backlit onyx has a dreamy quality that I have used for wall and counters. Whether European, South American, Asian or domestic, natural stone has a distinctive look that can really make a project.
The current trend of organic modernism makes real stone a natural choice. The simplistic style combined with natural materials like stone, metal and wood give a space a calming vibe. The materials free of chemicals create a feeling of wellness we are all striving to create.
*Toni Sabatino is a leading kitchen designer
Source: usenaturalstone.org
The post The Timeless Quality of Natural Stone appeared first on StoneNews.eu.