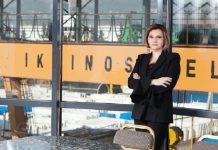 Women's entrepreneurship has remained a taboo for many years. Progress has been made in recent decades as more and more businesses employ women. The US (52%), Spain (48%), Canada (46%) and Finland (44%) are the countries with the highest employment rates for women at all corporate high job titles.
A great example is the marble industry "Iktinos Hellas SA", one of the largest in Greece, which is leaded by a woman, Vice President Julie Chaidas. Dynamic, insightful, thirsty for knowledge, she does not stop evolving on a personal and professional level and set higher and higher goals. Her vision is to boost female entrepreneurship in Greece and create a network that promotes female… brains.
In an interview at fortunegreece.com, Ms. Chaidas explains why women are more effective at managing posts: "Women are usually more involved than male leaders and just as empowered to motivate others, having emotional intelligence and persuasion, encouraging communication, mentoring, and building high quality supportive relationships. In addition, women have learned throughout their lives to handle multiple responsibilities. They are called upon to play many different and demanding roles at the same time while maintaining difficult balance.
How is it for a woman to lead a male-dominated industry and gain the respect of her competitors? Ms. Chaidas replies that she has never encountered a problem due to her gender even in quarry areas where the environment and conditions are unfit for the so-called 'weak sex'. But she had find the golden balance between a career, personal satisfaction, and her role as wife and mother. "As entrepreneurship is not a part-time job, I had to keep my balance and find time to be close to my family and to please myself. Perseverance and determination are probably the most important components of success", she explains.
Her belief is that in addition to the hard work, which she considers self-evident, a woman to succeed must love above all what she does, and derive satisfaction. It also needs to move carefully, but at the same time be able to take the risk whenever it is needed, without fear of new challenges or frightened by failure because this is the path to success.
Citing Amelia Earhart, the American aviation pioneer, writer and women's rights advocate, she says, "The hardest thing is to make the decision to do it, the rest is just a matter of persistence." "I believe that women should insist on what they do in business and try to do with knowledge and, above all, principles," she adds.
Source: www.fortunegreece.com
The post Julie Chaidas, Iktinos Hellas S.A.: "Women should insist on what they do in business" appeared first on StoneNews.eu.