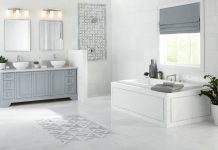 Natural stones have been used in construction for thousands of years. In modern age they are used mostly in interior design, due to their unique characteristics. What are the elements to keep in mind to make the perfect pick.
Primitive people built their earliest habitats using stone. The earliest examples of stone structures can be seen in the pyramids of Egypt, the Stonehenge of England, etc. The use of megaliths or huge rocks in simple circular patterns for religious and astronomical importance was a very common occurrence. The remnants of the same could be seen in the colossal statues of Easter Islands, the Stone Henges and many others.
With the advent of technology and human evolution, stone was used more and more as the principal building material.
Why should you use stones in Interior Design?
Stone in the interiors of a house is not only easy to use, but is also a very exciting and novel material. Usage of stone as a part of the design scheme adds the required warmth and charm to your homes. It is representative of the connection of nature and earth. Also, stone would render a timeless elegance to the house. Other than that, stone is:
In trend
Easy to maintain
Durable
Sustainable
Versatile as a material
How to make the right pick?
Your first step is to choose a stone that goes best with the design style. Once you know which stone works best for you, you should think about its workability in your space. While opting for stone, the most important thing to bear in mind is to check for if the characteristics of the stone are in favor of the situation that you are using it for.
Also, it is important to know that some stones typically require some form of treatment in the form of chemical compounds called sealers which help to fill the pores in case of porous stones, to make them impervious.
Provided below are some widely used stones with particular reference to their usage and unique properties.
Onyx
The use of Onyx is widespread owing to its characteristic feature of transmitting light through it. It is famous for its color pallete and patterns. It is resistant to very high temperatures and is also resistant to cuts and scratches. It is a very decorative stone that can turn an accent wall into a spectacular art piece.
Uses:
Onyx used in kitchen island designs, and flooring looks spectacular. Modern bathroom decorating with onyx wall tiles, bathroom sinks, onyx vanity tops or bathtubs create remarkable interiors.
Sandstone
Sandstone is a relatively softer stone which is non slippery and requires less maintenance. They are available in an array of colors and are very easy to work with.
Uses: Sandstone is commonly laid on walkways, driveways, pool decks and other places that regularly come in contact with water. Furthermore, since sandstone is easy to be worked upon, the desired anti-skid finish can be easily brought to its surface. It is also used as a material to clad walls.
Slate
Slate is a fine grained and foliated metamorphic stone that is composed of clay or volcanic ash. Slate is
fire resistant and is incredibly durable, it can last for decades with very little or no maintenance.
Use: Slate can be used in interiors for flooring, staircase treads, wall claddings and walkways. It can be
set into walls to provide for a damp proof membrane.
Granite
Granite is one of the most versatile natural stones because of its high level density and resistance to stains. Also, it is hard, durable and very easy to maintain. Its availability in a wide range of colors and patterns makes it a favorable choice for many.
Use: Polished granite can be used for flooring tiles, stair treads, kitchen countertops and for other decorative features.
Marble
Marble stone is a classic material for interior designing. Although marble stains easily, it is still preferred my many for its luxurious look that creates an exciting and classy look which compensates for its shortcomings.
Use: It is used as window sills, bathroom floors, wall claddings in houses and also in foyers for residential and commercial buildings.
Travertine
Travertine has a smooth and shiny finish. It is available in an array of colors and patterns ranging from grays to coral reds. It is perfect to give an imperial look.
Use:
Travertine is fit for application outdoors, to be used in patios and pool surrounds. The neutral colors and subtle patterns are perfect for contrasting deck furniture. Other than that, travertine is immensely popular for its application on bathroom countertops.
Source: timesofindia.indiatimes.com
The post Natural stones in interior: making the perfect pick appeared first on StoneNews.eu.