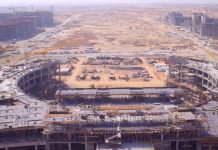 An Entertainment District is set to be constructed in Egypt at a cost of US $20bn. This is after ATIP New Capital Entertainment (ATIP Entertainment) won a contract from the Administrative Capital for Urban Development (ACUD) for the development.
The contract entails providing design, entertainment technology and management for the project. The Entertainment District, spanning 4,256 acres, will be in in Egypt's New Administrative Capital, which has been under construction since 2015.
The project will be developed in three phases over a period of 10 years. It will include construction of 4-star and 6-star resorts and themed hotels, luxury homes, villas and high-rises; a wellness centre; high-end and regional shopping and dining; a VIP golf course and other recreational and green space activities and theme parks.
The Entertainment District will also feature; cultural arts centre, convention centre, aviary, butterfly, topiary and botanical gardens/conservatories, planetarium, museum and recreational activities for children, sports and concert stadium, Formula One racetrack and an entertainment college.
Source: constructionreviewonline.com
The post US $20bn Entertainment District set to be constructed in Egypt appeared first on StoneNews.eu.