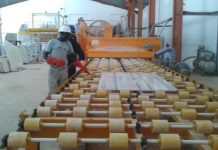 Chinese firm, Sunbelt Mining Company are in the process of setting up a factory in Nanyidik village to add value to marble stone, a raw material that is used to manufacture floor and wall tiles, statues, plates, jewellery and other decorative items and ornaments.
They are yet to receive an export licence but even then, their working site is active. Locals are busy with excavators, wide loaders, forklifts, drilling machines and offering menial services.
In order to access the remote village, Sunbelt invested in constructing a 15-kilometre road which has also eased movement and access to health services by community members.
"We have also constructed three dams, one run by solar energy, to enable locals access clean water. I have spent close to a million dollars altogether, the bigger chunk spent towards compensation of locals who lived on the land," Sunbelt's director, Sun Zhen Zhong explains.
The mining company is headquartered out of Shan Dong, in Weifeng city in China and is looking at prospects of mining and adding value to marble stones which will in turn benefit the Karamoja region which also has gold, lime among other precious and commercially rewarding minerals.
"We are still waiting for the President to append his signature to allow us export. Uganda does not allow export of raw materials but the prospects of manufacturing locally are bit tricky given the small market size. We would rather export the marble stone to China where we are assured of a ready, sizable market," Zhong adds.
According to Col Amos Oyugi, the coordinator of Operation Wealth Creation (OWC) in the Karamoja region, President Museveni has previously expressed the need for Uganda to grow its industrial prospects.
"They would like to export the stones in blocks yet the big man (President) wants them to manufacture from here. The directors of the Sunbelt have told me the machines for cutting titles are yet to arrive," he adds.
Col Oyugi roots for the Chinese company manufacturing locally which will enable locals buy products cheaply, adding that with the boom in the real estate sector, addition of value to marble stone to produce tiles, has a readily available market to supply.
Source: www.monitor.co.ug
The post China – Uganda: Marble to spur development appeared first on StoneNews.eu.