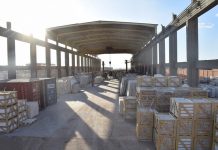 The launch of Samsung's factory in Beni Suef last year drew much attention to investment opportunities in Upper Egypt. In the same year, the governorate witnessed the opening of an Egyptian Steel factory, as well as a complex that comprises three major cement factories, five mega marble factories, and two granite factories.
The establishment of an Egyptian Cement factory, which was announced in 2017, is also underway in Sohag and is expected to start operating this year. The trust of reputable investors in Upper Egypt to build huge factories is an indicator of its potential to house a robust manufacturing sector.
Roads and Ports
The main reason Samsung chose Beni Suef and the factory's precise location is its proximity to the Regional Ring Road and Ain Al Sokhna Port, as exports can be delivered in just 90 minutes, CEO of Samsung Electronics Egypt Sherif Barakat told CBC.
Chairman of Sohag Business Association Mohamoud al-Shandawily similarly tells Business Today Egypt that one of his governorate's distinct features is its location. Sohag, which has an international airport, lies around 300 kilometers away from Safaga Port and approximately 338 kilometers from Aswan, which facilitates exporting, particularly to Africa. Deputy Chairman of Egyptian Union for Investors Associations and Chairman of Asyut Business Association Ali Hamza also tells Business Today Egypt that his governorate, Asyut, possesses the roads needed by investors as well as a unique proximity to Hurghada and Safaga seaports.
Infrastructure
Hamza states that "the infrastructure has significantly improved. A major problem a few years ago was recurrent electricity outage but that has now disappeared, and all utilities have been introduced in industrial cities." The businessman also reveals that currently, the state is building licensed factories to encourage SMEs. As for incentives, the "lands in industrial cities are granted for free and the Central Bank of Egypt (CBE) offers loans with just a 5% interest rate to help investors pay the costs of other factors of production." Shandawily also indicates that 8 industrial cities have been built in his native governorate of Sohag.
Sectors to Invest In
Hamza he tells Business Today Egypt, "Some agricultural goods can be processed such as potatoes, fruits, and grenades, which can be used to produce 12 types of goods in addition to many food industries." The handicrafts that can be encouraged in Upper Egypt are the production of furniture, bed covers, carpets and other hand-made textiles, among others. Asyut in particular is known for carpet production.
The Deputy Chairman of Egyptian Union for Investors Associations further stresses, "A screening should be carried out to identify the resources in each governorate and how to invest them." He gave the example of Aswan, which is rich in phosphates and marble that can be manufactured and exported, and of the limestone resource that exists in all Upper Egyptian governorates. Hamza highlights that raw materials are often subject to "very minor procedures" before exportation, suggesting "the value chain [is boosted] by adopting more developed industries."
Source: www.egypttoday.com
The post The future of investment lies in Upper Egypt appeared first on StoneNews.eu.