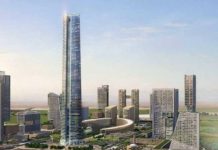 Construction of the Iconic Tower in Egypt's new administrative capital has began. Housing Minister Asem al-Gazzar revealed the report and said that foundation works has commenced.
The Iconic Tower is one of several Dubai-style mega projects being built in the new administrative capital. The base of about 18,500 cubic concrete and 5000 tons of reinforced bars was poured in February.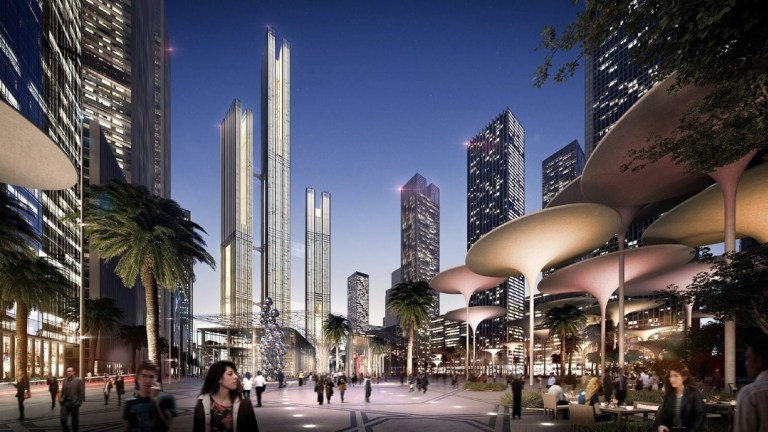 It will be a 390 metre tall tower, hoped that when completed it will stand as the tallest building in Africa taking over from Johannesburg's Carlton Centre, standing at 223 metres in height.
The 80-storey Nile Tower building was designed in 2007 with a unique design that sees it twist from a triangular base into a rectangular skyscraper. It is founded on an area of roughly 240,000 square meters.
Carried out by China State Construction Engineering Corporation(CSCEC), the project is a landmark for the China- proposed Belt and Road Initiative(BRI) that seeks win-win development cooperation between participating states through economic and trade partnership as well as infrastructure projects.
The development will comprise 60 residential buildings, offering 1,840 fully finished apartments, alongside 98 villas, divided as townhouses, twin houses, and standalone units. Egypt faces a persistent housing shortage, with population growth outstripping supply of affordable residential units.
The new administrative capital will also include pioneering sustainability technology to create new villa concepts called I-Villas. The apartments, sized from 100 sq m to 500 sq m, have been designed to resemble villas. Each unit will have its entrance, green space and parking.
According to Housing Minister Asem al-Gazzar, utilities and urban communities, the iCity project in Al Qahera Al Gadida would be the first in Egypt to be built under a public-private-partnership. The project will be developed on a land area of around 700km2 – around 12 times the size of Manhattan Island – and be located between Cairo and the Red Sea.
Source: constructionreviewonline.com
The post Egypt commence construction of the Egypt's Iconic Tower appeared first on StoneNews.eu.