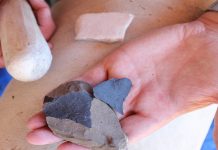 A Stone Age quarry dating back 6000 years has been unearthed in northern Wales.
A community volunteer group has been excavating the site, located in St Dyfnog's Well, Denbighshire, where it is believed ancient residents once extracted rock to manufacture stone tools.
Material collected from the archaeological dig shows the quarry originated in the Neolithic era, the final division of the Stone Age.
According to the BBC, Neolithic farmers came to the well to excavate chert found in the limestone. Fires were lit to heat the rock, before it was covered with water to cause a splintering effect. They would then remove the required material with antler picks.
Around 35 volunteers have helped with the site's excavation, which also found evidence of old steps to the well basin, remains of a building and a Victorian era gin bottle.
Source: www.quarrymagazine.com
The post Neolithic era quarry discovered in Wales – A Stone Age quarry dating back 6000 years appeared first on StoneNews.eu.