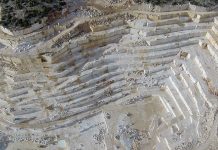 Turkey is the world's largest marble blocks and slabs exporter. According to Istanbul Minerals and Metals Exporters Association data, in 2019, the country's natural stones exports were $1.86 billion, decreasing by 2.3%. The main destination of these exports was China and the US-China trade war affected also, as expected, the bilateral trade between the two countries.
Stonenews.eu has recently presented Turkey's growth of marble blocks and slabs exports month to month during the first ten months of 2019, in comparison with other major marble exporting countries, as well as Turkey's marble blocks and slabs exports to China from January to September 2019.
In general, Turkey's minerals, natural stones, metal ores and fuels exports ($4.3 billion) saw an annual decline of 5.5% in 2019. More specifically, metal ores ($1.2 billion) and industrial minerals ($906.86 million) exports dropped 8.14% and 7.62%, respectively. Turkey's mining exports were mainly marble, travertine, borate, chrome, gold, silver and feldspar.
The post Turkey's natural stones exports in a marginal decline in 2019 appeared first on StoneNews.eu.