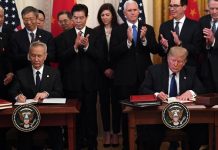 The US and China have signed an agreement aimed at easing a trade war that has rattled markets and weighed on the global economy.
Speaking in Washington, US President Donald Trump said the pact would be "transformative" for the US economy.
Chinese leaders called it a "win-win" deal that would help foster better relations between the two countries.
China has pledged to boost US imports by $200bn above 2017 levels and strengthen intellectual property rules.
In exchange, US has agreed to halve some of the new tariffs it has imposed on Chinese products.
At a signing ceremony in Washington Mr Trump said the deal sets the stage for a stronger relationship between the US and China.
"Together we are righting the wrongs of the past and delivering a future of economic justice and security," he said.
"Far beyond even this deal, it's going to lead to an even stronger world peace," he added.
Chinese Vice Premier Liu He, who signed the deal on behalf of China, said the agreement was rooted in "equality and mutual respect" and defended his country's economic model in his remarks.
"China has developed a political system and a model of economic development that suits its national reality," he said.
"This doesn't mean that China and the US cannot work together. On the contrary, our two countries share enormous common commercial interests."
"We hope both sides will abide by and keep the agreement in earnest."
What's in the deal?
China has committed to increasing its US imports by at least $200bn over 2017 levels, boosting purchases of agriculture by $32bn, manufacturing by $78bn, energy by $52bn and services by $38bn.
China has agreed to take more action against counterfeiting and make it easier for companies to pursue legal action over trade secret theft
The US will maintain up to 25% tariffs on an estimated $360bn worth of Chinese goods; China, which has levied new tariffs on $100bn worth of US products, is also expected to maintain the majority of them
Source: www.bbc.com
The post US and China sign deal to ease trade war appeared first on StoneNews.eu.