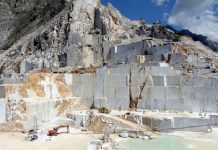 The Khyber Pakhtunkhwa government has finally showed some positive intent for establishment of marble city in Buner as it says that the process of land purchase for the project will commence within two months.
In an interview with TNN, Special Assistant to KP Chief Minister on Public Health Riaz Khan said millions dolars was set aside in the budget 2019-20 for kicking off work on Buner Marble City. The project was approved by former speaker of KP Assembly Bakht Jehan Khan during the government of Muttahida Majlis-e-Amal (MMA) and budget was also approved for it during different governments, but work could not be initiated as the project was politicised.
Buner Marble Association president Murad Ali Khan said while talking to TNN that establishment of Buner Marble City was announced several times, but the powerful chief ministers or ministers used to divert its funds to their own constituencies.
Riaz Khan said two sites were identified for the marble city – the first site is situated in Kangar Gali and the other in Ambela. He said the KP Economic Zone Authority officials have visited both sites and they will finalise one site within a week or two keeping in view the required facilities for the project.
At present, there are 418 marble factories in Buner out of which about 95 percent factories are situated in Daggar tehsil as most marble mines are situated in the same area.
Source: menafn.com
The post A marble city is going to be established in Buner, Pakistan appeared first on StoneNews.eu.