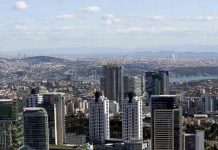 Turkey's construction industry is expected to recover from its current slump and rise to US$230 billion in 2024, thanks to the government's focus on developing transport, residential and energy infrastructure, as well as investments under its 11th five-year development plan 2019-2023.
GlobalData's report, 'Construction in Turkey – Key Trends and Opportunities to 2024' reveals the industry's growth will be supported by investment in transport infrastructure.
"Under the Vision 2023, the government aims to boost economic growth by 2023, under which it aims to build 13,478km of new roads, and 5,748km of new highways by 2023," said Danny Richards, lead economist at GlobalData. "The government also aims to develop 10,000km of high-speed railway line across the country by 2023.''
The total construction project pipeline in Turkey stands at US$508 billion. The pipeline, which includes all projects from pre-planning to execution, is relatively skewed towards late-stage projects, with 58.1% of the pipeline value being in projects in the pre-execution and execution stages as of December 2019.
According to industry reports, Turkey's construction industry has been among the worst hit by a severe economic downturn sparked by a currency crisis last summer. Scores of companies went bust while others were forced to seek bankruptcy protection, repay bank loans or restructure them as the housing market slumped and projects were abandoned before reaching completion.
"The downturn in construction activity in Turkey deepened in 2019, with the industry contracting by an estimated 8%, following a 2.1% drop in 2018," Richards said. "The country's economic woes have severely impacted construction activity; the depreciation in the lira and high interest rates have pushed up construction costs and also the cost of borrowing such that the viability of projects has been eroded, and firms are reportedly bringing projects to a halt.
"Increasing numbers of construction companies have also collapsed or sought bankruptcy protection. However, there are signs that the worst may be over, with positive economic growth projections for 2020 along with expectations of further cuts in interest rates."
Despite those difficulties, GlobalData expects construction output to recover in 2020, with growth continuing in the following few years. This will be driven by investments under the 11th five-year development plan 2019–2023, under which the government aims to turn the country into a US$1.1 trillion economy, as well as generate US$226.6 billion of income from exports by 2023.
Source: www.khl.com
The post GlobalData: Turkey's construction industry to reach $230 billion appeared first on StoneNews.eu.