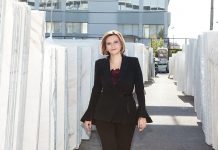 Vice President of IKTINOS HELLAS SA, Mrs Julie Haida, marks 2020 as a year of recovery and further strengthening of the company's position on the world market. Underground exploitation and export activity of the company in both raw materials and finished marble products are the key tools for success.
In a recent interview at Reporter.gr, Mrs Haida stated: "2019 was not an easy year for our company, but I would say that it presented many difficulties due to the change in the way of quarrying in our basic quarry located in Volakas Drama. This change, mainly due to our lack of experience, from ground to underground has caused a large decrease in production which has had a significant effect on the results of the year. It is perfectly reasonable to have a reduction when a quarry that accounts for 70% of its turnover has a reduced output of 30%".
It is worth noting that IKTINOS exports 95% of its production to 90 countries, while not only did it not cut wages or staff during the crisis, but an additional of 275 employees was added, reaching 450 people of staff today.
Green growth
Can an industry like marble that is directly linked to the exploitation of natural resources work in a way that is environmentally friendly? Mrs Haida explains that green entrepreneurship, with initiatives aimed at producing environmentally friendly products or implementing environmentally friendly practices in the process of production, is necessary to protect the environment, since it reduces the consequences of climate change and the enormous cost of it and additionally because it creates new business opportunities and jobs.
For IKTINOS, as Mrs Haida notes, the above forms of entrepreneurship are essential to sustainability, which are of prime importance, while having beneficial effects in shaping a new economic environment, more human-friendly but also to nature. "Mining and environmental protection are interconnected concepts for IKTINOS. Aesthetic intervention in the environment is restored with tree planting and reforestation at the sites we extract. However, especially environmentally friendly is the new method of underground mining during which we do not interfere in the external environment and no visual and aesthetic pollution is caused. It is an innovative method that ensures the protection of the environment without creating any problems at all".
Corporate social responsibility
Corporate social responsibility is also high on the company's agenda. As Mrs Haida explains, since its inception, IKTINOS has put its social footprint on the picture, offering jobs in areas affected by high unemployment rates, helping financial municipalities and communities to implement their programs and, in particular, creating a particularly environmentally friendly approach even by conducting studies in collaboration with the Aristotle University of Thessaloniki on biodiversity conservation.
Sustainability
In preparing the plan for the next five years, the priority for the company is to meet the UN Sustainable Development Goals. Particular emphasis will be given to the innovation and infrastructure pillar, which requires the creation of new product models that are compatible with other UN objectives. IKTINOS is already investing in new technological equipment to upgrade its production process.
Focus will also be on responsible consumption and production. The Greek listed has the know-how and is particularly interested in rescuing delicate and problematic marbles, which – under different conditions – could not be used in production. In fact, it has installed biological waste water treatment systems in its plants. "We have realized that we have to produce and consume as much as the environment allows, and recycling and circular economy are very important tools in order to be able to act on that goal."
Finally, the third UN objective on which the IKTINOS administration aspires to improve its performance relates to green energy. Given that climate change is now a reality and our planet has reached a pivotal point, Mrs Haida acknowledges that economies can no longer rely so heavily on oil, which is why IKTINOS is actively working in the renewable energy sector, with a wind farm of 22MW and four new ones under construction.
Source: Reporter.gr
The post IKTINOS HELLAS SA: Underground Exploitation and Green Growth the key pillars of the company's 2020 policy appeared first on StoneNews.eu.