Since its first launch in 1963, the Caterpillar 988 Block Handler has been leading the construction machinery industry for more than 50 years. Remaining true to their commitment for high productivity and efficiency, the company took the next step introducing the 988K Block Handler, which continues Cat's legacy of reliability, outstanding performance, safety, and serviceability. The machine was designed to withstand the demanding and harsh environment of block handling applications, combining different features in order to meet any block handling needs.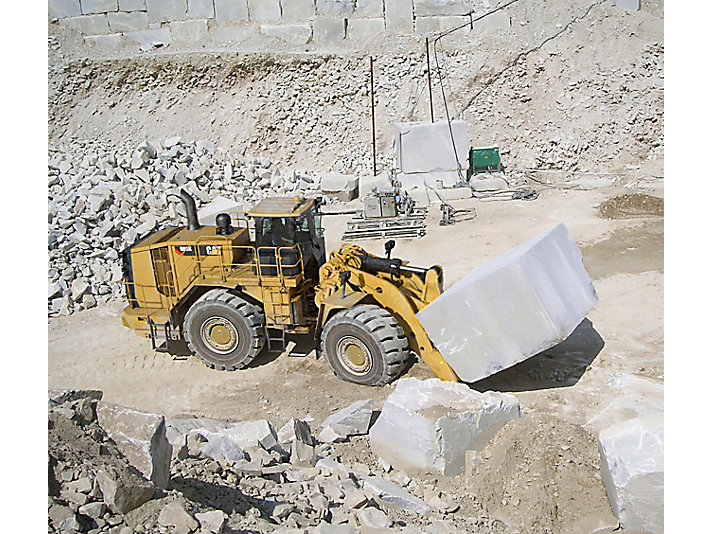 The advanced technologies and the innovative structure adopted in Cat 988K assure lower fuel consumption by 20%- compared to 988H model- and reduced emissions without lacking in productivity, providing the machine with many hours of productive life and consequently saving resources and money for the customers. Equipped with CAT's C18 engine and its fully integrated electronic engine controls, the 988K achieves fuel efficiency. Engine Idle Shutdown ensures less fuel idling while Delayed Engine Shutdown maximizes durability. CAT Torque Converter with Lock-up Clutch eliminates TC losses while lowering system heat, improves travel speeds and reduces cycle times in load and carry operations.
The 988K Block Handler delivers stability and durability with an optimized counterweight for block handling applications. The high rimpull power train features a torque converter and transmission specially designed for this application to maximize rimpull, making it capable of moving even the heaviest blocks out of the quarry pit. The machine comes equipped with larger tilt and lift cylinders on the linkage that help improve load control and ensure safe and long lasting operation.
Featuring unique applications designed specifically for block handling operation, the 988K justifies its leading role in the market. The optimized Z-bar linkage is designed to maximize lift capability while high load stresses are absorbed by solid steel lift arms, prolonging time for repair. The exclusive CAT's Steering and Transmission Integrated Control System (STIC™) offers maximum responsiveness and control combining directional selection, gear selection and steering into one single lever. The Impeller Clutch Torque Converter (ICTC) reduces tire slippage and wear by modulating rimpull from 100 to 25 percent while depressing left pedal, resulting to lower cost per tonne.
The safe, quiet and ergonomic operator cabin ensures that operators will be effective all day every day. The isolation cab mounts and the seat air suspension reduce vibrations while automatic temperature controls maintain the desired cab temperature. The cabin is pressurized with filtered air and the sound level has been reduced to a quiet 71 dB(A).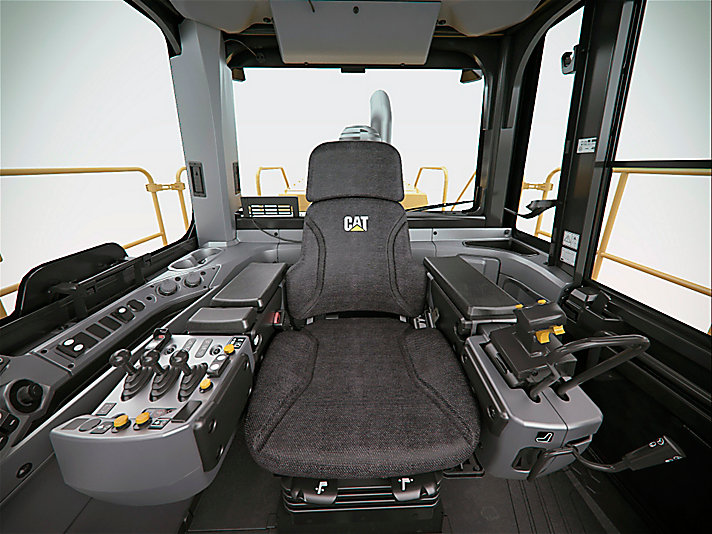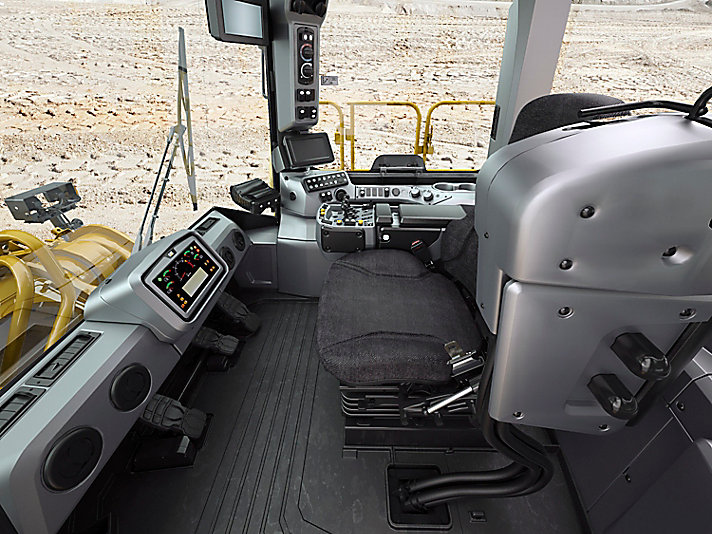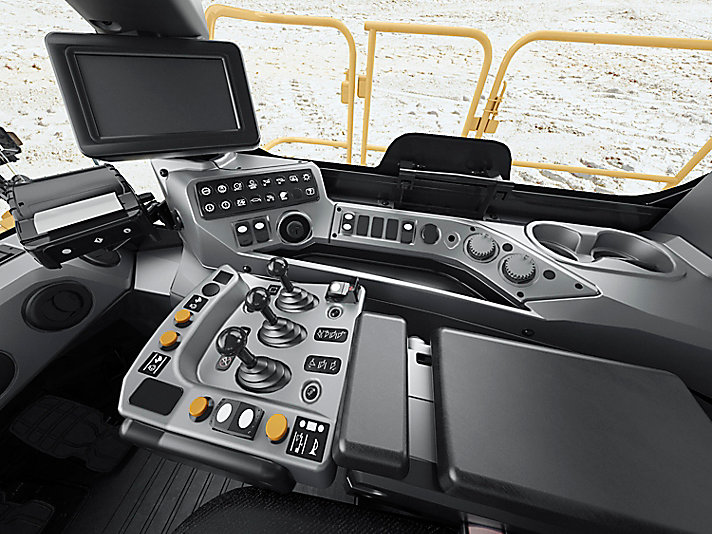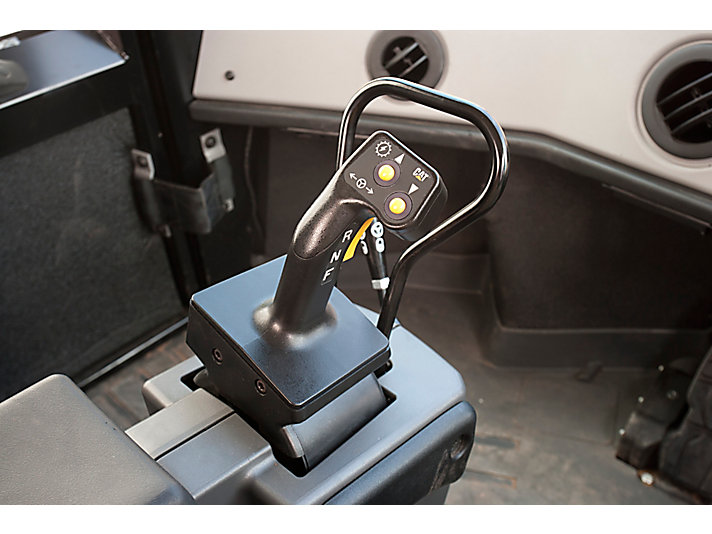 Serviceability is really important for machinery as it facilitates maintenance and lengthens time for repair. The CAT 988K provides safe and convenient service with ground level or platform access and grouped service points as well as ground level access to transmission control valves. Swing-out doors on both sides of the engine compartment provide easy access to important daily service checks. Ecology drains prevent spilling potential environmental contaminants. The VIMS system notifications reduce downtime in order operators and technicians to resolve any problems before failure.
The effectiveness of the 988K is achieved through high fuel efficiency and high productivity providing the desired result in lower cost of ownership and greater net profit. Thus, the machine's versatility offers various solutions to any needs. Quick Coupler, Breaker Tine, Forks, Clearing Rake, Rock Bucket, Marble Bucket and Block Bucket Heavy Duty are the tool options provided.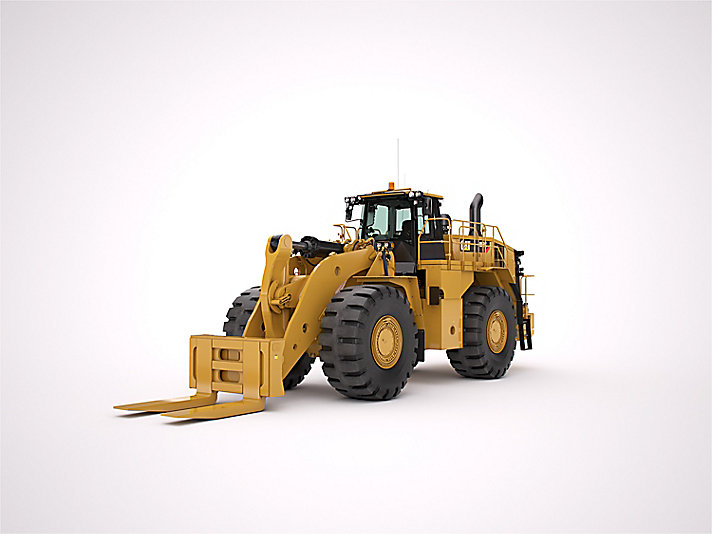 Customer support and after-sales high-quality service is CAT's key of success. Constant technical support is available all over the world through the company's representatives or dealers. Preventive maintenance programs and guaranteed maintenance contracts, best-in-class parts availability and operator training are some of the strong points that make CAT your partner in success. In Greece, Caterpillar is officially represented by ELTRAK
The post Caterpillar 988K Block Handler: lasting performance in tough conditions appeared first on StoneNews.eu.