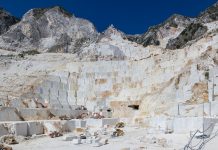 The use of natural stones in the UK diminished in the first three quarters of the 20th century but has since enjoyed a major revival and demand. There has been a gradual recovery since 2012/13. According to the World Bank, the UK economy as a whole showed consistent growth since 2010 and greater growth for much of that time than seen in general in the developed world.
As the UK construction industry continued to grow, demand for natural stone continued to strengthen. The use of stone is now well established in all areas of construction – commercial and domestic. Stone has always been chosen for structures that are intended to show solidity and permanence, marking out the finest in architecture through the centuries.With the rise of modernism at the start of the 19th century, architects turned to the then newly developed hard concretes, but as the second millennium drew to a close, architecture in Britain rediscovered its love of stone. Once again, the very symbol of permanence and longevity was chosen to mark out significant buildings and landscapes intended to give the impression of being intended to last for the next 1,000 years.
According to HM Revenue & Customs, the UK tax collector, the value of UK stone imports has returned to an upward trend since 2012. There was some hesitation about taking projects live towards the end of 2015 and the first half of 2016 as the referendum in the UK on leaving the European Union – Brexit- approached. Since the result was announced that the UK was to leave the EU, confidence seems to have returned to the market.
Stonenews.eu after collecting, studying and editing the statistical data provided by Eurostat, is presenting the marble and granite import growth per month during the first ten months of 2019, both in value and quantity of imports, compared to the same period of time last year.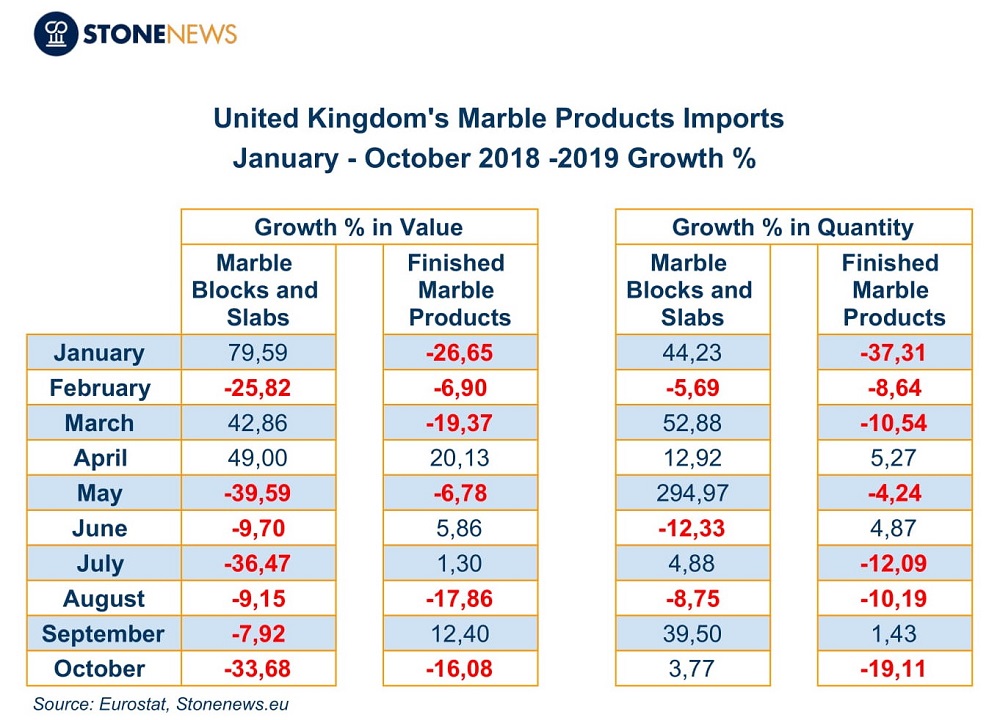 As presented at the table above, UK's marble blocks and slabs imports during the first months of 2019 were less in value than last year, a fact that is not reflected in quantity of imports, though. Finished marble products imports, on the other hand, show fluctuations from month to month, although the decrease shown in value is reflected to quantity, as well.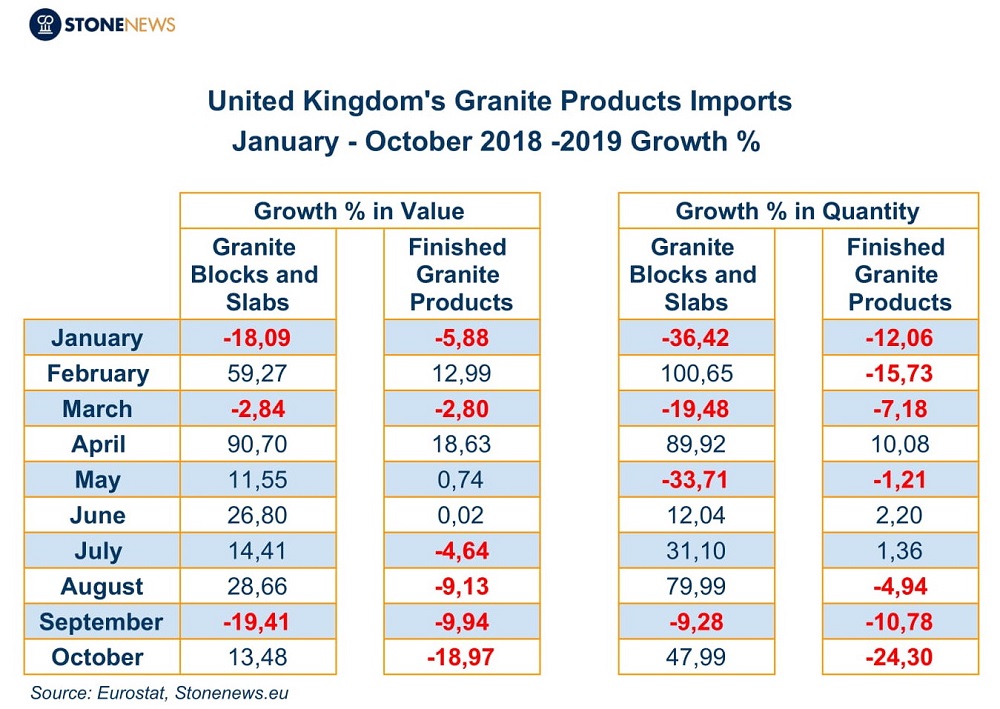 As for UK's granite products imports, a generally upward trend is clear, mainly for granite blocks and slabs, even there were some major losses in quantity of imports. Finished granite products imports, however, suffered more months in decline both in value and quantity of imports.
Most of the marble import value comes from Italy, both in blocks and slabs and finished. Turkey is also a significant player in finished marble imports. India and China are the major suppliers of granite to the UK, both in blocks and slabs as well as in finished granite products.
The post UK's marble and granite products import growth – January to October 2019 appeared first on StoneNews.eu.