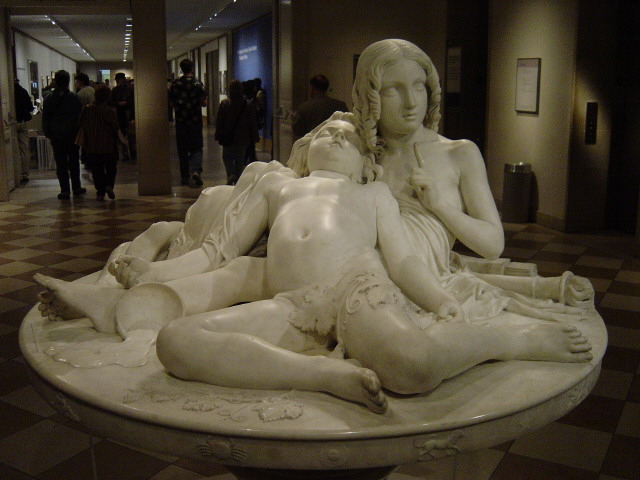 Marble is a metamorphic rock derived from limestone, composed mostly of calcite (a crystalline form of calcium carbonate, CaCO3). The original source of the parent limestone is the seabed deposition of calcium carbonate in the form of microscopic animal skeletons or similar materials. Marble is formed when the limestone is transformed by heat and pressure after being overlain by other materials. The finest marbles for sculpture have no or few stains, though natural stains can be incorporated into the work itself.
Advantages
Among the commonly available stones, only marble has a slight translucency i.e. subsurface scattering that is comparable to that of human skin. It is this translucency that gives a marble sculpture a visual depth beyond its surface and this evokes a certain realism when used for figurative works. Marble also has the advantage that, when first quarried, it is relatively soft and easy to work, refine, and polish.[citation needed] As the finished marble ages, it becomes harder and more durable. Preference to the cheaper and less translucent limestone is based largely on the fineness of marble's grain, which enables the sculptor to render minute detail in a manner not always possible with limestone. In contrast to limestone, marble is also extremely weather-resistant. As a result, surface changes due to the immediate environment are not always visible to the naked eye. This feature can pose challenges when dating ancient works.
Disadvantages
Marble does not bear handling well as it will absorb skin oils when touched, which leads to yellow brownish staining. While more resistant than limestone it is subject to attack by weak acids, and so performs poorly in outdoor environments subject to acid rain. For severe environments, granite is a more lasting material but one which is far more difficult to work and much less suitable for refined works. Compared to metals such as bronze, furthermore, marble is inflexible and vulnerable to fracturing. This drawback means that sculptors must incorporate specific supporting features into the sculpture to prevent collapse. In Thomas Ridgeway Gould's The West Wind, for example, he poised the figure's short and slender ankles delicately upon the balls of her small feet. This would not be possible without the deliberate decision by Gould to distribute almost all of the marble's weight to her massive, flowing skirt. Unlike bronze sculpture, this statue is not hollow; her drapery is one solid block of marble.