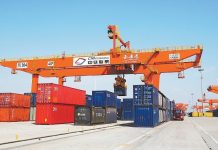 China State Railway Group Company (China Rail) said that container rail freight to Europe grew in the first quarter of 2020 as Chinese manufacturers resumed operations after the Covid-19 outbreak.
Demand for medical protection equipment, much of which is manufactured in China, resulted in higher container volumes being railed to Europe.
According to China Rail 1,941 container rail trips were made from January to March, transporting 174,000TEU. Compared to 1,688 trips, 147,458TEU, in Q1 2019. There was a noticeable increase in rail trips in March, during which 73,000TEU were moved on 809 trips. In comparison, 53,676TEU railed on 622 trips in March 2019.
China Rail said that even when Covid-19 began spreading from Wuhan in January, the company resolutely implemented the instructions of the Communist Party's Central Committee and the State Council, in an effort to minimise disruption to railway logistics.
For example, at all stations along the China-Europe routes, epidemic prevention measures were in place to minimise human-to-human interaction, including electronic port customs clearance.
Notwithstanding the pandemic, the northern Chinese city of Xi'an launched nearly 600 freight trains since the start of the year. Trains arrive in either Rostock or Hamburg in Germany, via Russia, Belarus and Poland. A single trip takes 14 days, around 20 days less than by sea. From Germany, the goods are distributed by rail to other parts of Europe.
China Rail said it had worked with shippers to understand their stocking situations and shipping requirements, after production resumed in various parts of China.
"In response to the gradual increase in the demand for epidemic prevention materials in Europe, we provided priority transport for the international movement of such goods," said China Rail.
The company added that as of 27 April, China-Europe trains have shipped around 448,000 pieces of epidemic prevention materials, to European destinations.
Martina Li, Asia Correspondent
Source: container-news.com
The post China-Europe rail freight bucks Covid-19 trend appeared first on StoneNews.eu.