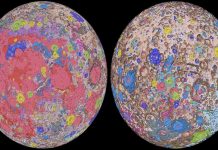 The United States Geology Survey has provided a comprehensive and uniformly classified geologic map of the lunar surface for the first time.
The extensive geologic map of the moon will be used to develop further understanding of the outer space rocky surface and help orchestrate future human missions.
Completion of what is being referred to as the "Unified Geologic Map of the Moon" was achieved by the USGS in collaboration with NASA and the Lunar Planetary Institute.
The USGS stated that the digital map will become "invaluable to the international scientific community, educators and the public at large".
For USGS director and former NASA astronaut Jim Reilly, the map will serve as a valuable resource in planning future moon missions.
"People have always been fascinated by the moon and when we might return," he said. "So, it's wonderful to see USGS create a resource that can help NASA with their planning for future missions."
Creation of the map was achieved by using information from six regional maps of the moon that date back to the Apollo era (from 1969 to 1972) in conjunction with new satellite data of the moon.
The map was updated by USGS scientists who combined the new and old information to deliver a unified presentation of the stratigraphy (rock layers) of the moon.
An accurate description of the moon's rock names, descriptions and ages has now been achieved. These had been inconsistent in relation to previous maps.
USGS geologist and lead author Corey Fortezzo said the information used in the map is the results of decades of research.
"This map is a culmination of a decades-long project," he said. "It provides vital information for new scientific studies by connecting the exploration of specific sites on the moon with the rest of the lunar surface."
Further information about the map can be found at the Unified Geologic Map of the Moon website.
Source: www.quarrymagazine.com
The post World first geologic map of the moon released appeared first on StoneNews.eu.