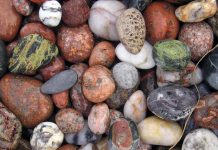 Geologists around the world are pushing for a standardised approach towards sample archiving to improve knowledge about our planet's ancient past.
Geologists from Australia, the United States and China have advocated for global access of rock samples for geologists across the globe after publishing their proposal in an article for the Nature journal.
The article states that providing geologists with the same rock samples — rather than answering the same research question using a similar rock from a different location — would allow for more accurate studies.
"Rock samples that are used to tackle the same research question are often collected from different places, where the rocks were deposited at various times and in vastly different environments," the authors, including Ashleigh Hood, a sedimentology lecturer at the University of Melbourne, write. "This can result in completely distinct answers."
The group of geologists also seek to bring awareness to the "reproducibility crisis" that can cause contradictions between new and old studies when they are replicated. This includes variation to geography, when the same types of sediment are collected in different environments.
"Mercury enrichments in sediments are used as a tracer of large episodes of volcanic activity and their links to mass extinction events," the article states. "However, mercury enrichments can also result from wildfires or from local depositional conditions that lead to heavy metal uptake by sedimentary organic matter."
Other impacting factors include temperature or oxygen fluctuations in the same types of rocks, how the rock samples have been prepared (eg the method of crushing) and contamination.
Commenting on the latter, the geologists state that:
As sediments become rocks, they undergo many processes that can alter the geochemical signals of where and how they formed. Sediments laid down on sea floors or lake bottoms can experience changes in water level or salinity, for example if they are flushed with meltwater.
This, according to the article, is why geologists and people in related fields should be sharing the same samples through "standardised archival policies" guidelines such as natural history organisations archiving geological samples.
"All best practices must rest on a shared commitment — to ensure that scientific data are not divorced from scientific samples," the authors argue.
Source: www.quarrymagazine.com
The post Geologists call for global archive of rock samples appeared first on StoneNews.eu.