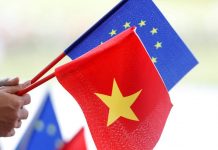 The European Commission adopted the EU-Vietnam trade and investment agreements, paving the way for their signature and conclusion. Through this adoption, the Commission is demonstrating its commitment to putting these agreements in place as soon as possible.
The trade agreement will eliminate over 99% of customs duties on goods traded between the two sides. The agreement also includes a strong, legally binding commitment to sustainable development, including the respect of human rights, labour rights, environmental protection and the fight against climate change, with an explicit reference to the Paris Agreement. It is the EU's second deal with a member of the Association of Southeast Asian nations (ASEAN) after Singapore.
The investment protection agreement, meanwhile, includes modern rules on investment protection enforceable through the new Investment Court System and ensures that the right of the governments on both sides to regulate in the interest of their citizens is preserved. It will replace the bilateral investment agreements that 21 EU Members States currently have in place with Vietnam.
Vietnam and the EU are long-standing trading partners. At the end of 2018, EU investors had invested more than US$23.9 billion in 2,133 projects in Vietnam. They are active in 18 economic sectors, and mainly in manufacturing, electricity and real estate. As for bilateral trade, Vietnam is now the EU's second most important trading partner among all ASEAN members.
Marble trade is one of the sectors of the bilateral economic cooperation between the two parts. Stonenews.eu, after collecting, studying and editing the statistical data provided by Eurostat, is presenting the EU's marble export value to Vietnam in 2019, both for marble blocks and slabs as well as finished marble products, and also the shares in export value of the top three EU exporters in each category.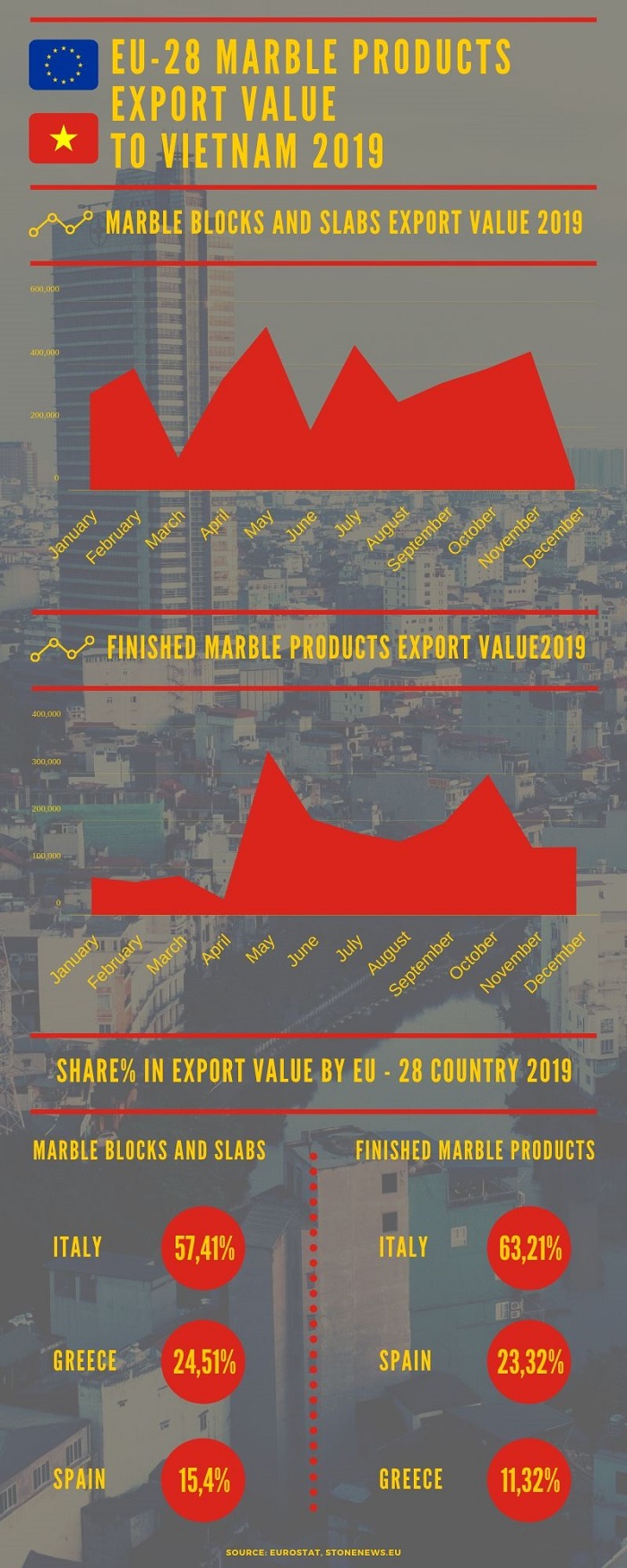 As seen at the picture above, the EU exports to Vietnam more marble blocks and slabs thann finished marble products, based on export value. More specifically, during 2019, May was the top month in marble blocks and slabs exports to Vietnam, followed by July and November. The total marble blocks and slabs export value to Vietnam was €3.79 million, out of which 57.41% came from Italy, 24.51% from Greece and 15.4% from Spain.
As for finished marble products, the EU started for good the engines of exports to Vietnam, after April 2019. May and October were the peak months, while during 2019 the total EU finished marble products export to Vietnam amounted €1.92 million, out of which 63.21% came from Italy, 23.32% from Spain and 11.32% from Greece.
*Due to consistent data flow, statistics may alter during the year
The post Commission presents EU-Vietnam trade and investment agreements for signature and conclusion appeared first on StoneNews.eu.